Digital Signage Dashboards
Real-time digital dashboards made easy.
Looking for a quick and easy way to view and share your company's performance in real time with the rest of your team?
A digital dashboard is the ideal tool for the purpose. But before we go into how to make a digital dashboard quickly and easily, let's see why visualizing data at the workplace is more than just a good idea.

Making your data visible is important for you and your team.
A recent study by Gallup of 2.5 million manager-led teams in 195 countries found that the majority of employees often lack regard for their performance or the performance of their organization. This leads to employee engagement that is less than optimal. 
Visualizing data in the form of charts on digital displays is a great way to solve that. It enables you to engage your employees with reliable and meaningful information coming right from the source – your everyday business tools. 
Data visualization and digital signage
go hand in hand.
The main goal of visualizing data is to present raw figures in a format that is easy to understand, insightful, and draws attention to the right information. Digital signage, in turn, helps engage and empower your teams by distributing the visual data on digital displays throughout your workplace. Your team is always kept up to date in real time.
What else you need to know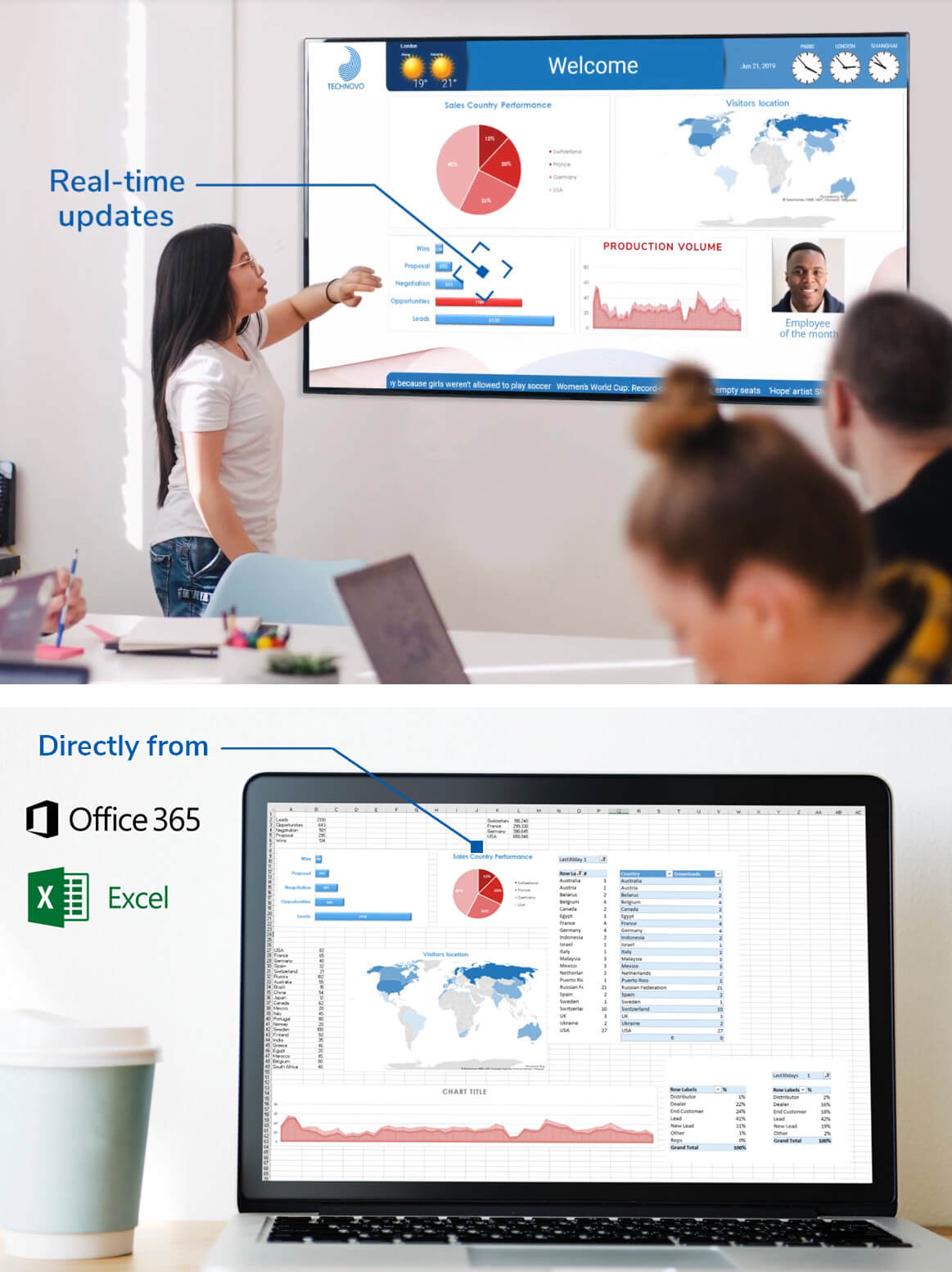 To create impactful digital dashboards and share your business data easily and effectively, you need a digital signage solution that:
Connects directly to the source of your data such as your everyday Excel spreadsheets
Is data-driven, or in other words, information displayed on the screen is updated in real time
Can distribute content across multiple locations - throughout your office or at remote sites
Is secure – to ensure that your business data is only shared with the right audience at any given time.
With 250+ data-driven widgets, Elementi, is the digital signage software that fits all of the above requirements. It securely connects to your Microsoft® Office 365 tools and allows you to put Excel charts from your spreadsheets on any display securely and in real time.
3 tips to build an impactful digital signage dashboard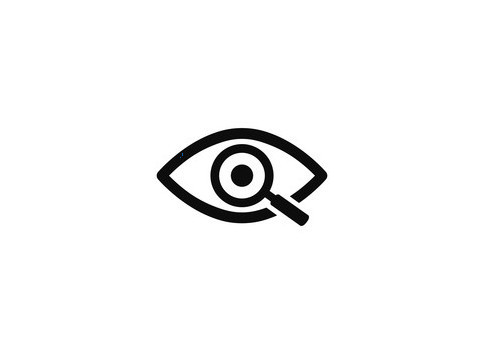 Identify the right KPIs
It's all about the questions you ask; not about the data you have. What are the most important questions you want to "ask" your data? The answers will give you the key to the right metrics to include in your digital dashboard.

Hint: highlight important metrics that are moving in the right direction to motivate employees and help them see their efforts paying off. It works both ways – highlighting negative performance will focus your team on the areas that need attention. Elementi features plenty of options to customize the look and feel of each individual chart.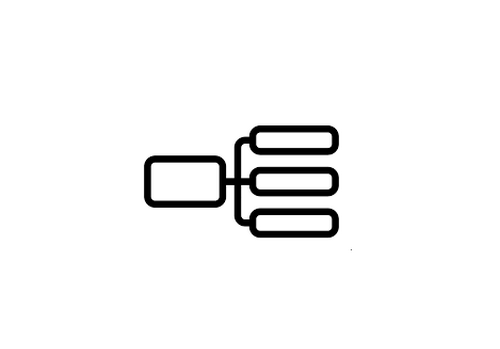 Use a layout that guides your audience
Anticipate the questions your teams will ask and organize your charts accordingly so that your dashboard is ready to deliver answers quickly. Group related KPIs together to provide insights on trends and the big picture.

Hint: Elementi connects to the spreadsheets you use every day. So picking out the charts already available in Excel is all you need to do.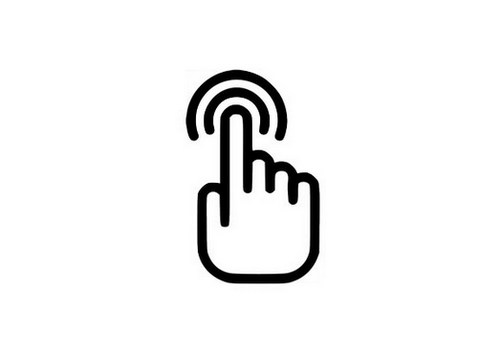 Drive engagement
Consider how people throughout your workplace would want to interact with data on your digital signage dashboard. Your dashboard should answer both your teams' primary and secondary questions. Allow team members with a fresh perspective to explore the data and uncover meaningful insights beyond just the overview.

Hint: Elementi features advanced touch interactivity and helps easily create multi-layered screen content ensuring maximum flexibility for any scenario.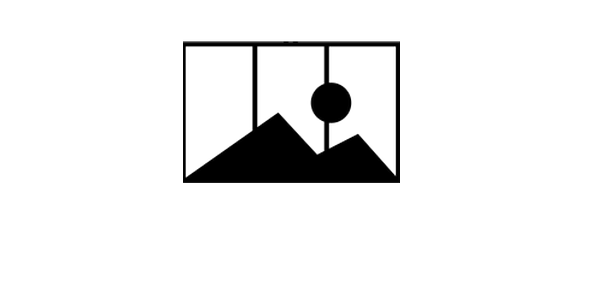 Bonus tip: video walls
Use a large display or a video wall for more screen real estate. Elementi supports any kind of screen size and configuration and features easy video-wall content creation out of the box.
Digital dashboards. Limitless applications.
The Elementi Excel chart widget, helps you make stunning digital dashboards in minutes from the charts you create and use in Excel Online as part of Office 365 or in your Excel app on your desktop. Applications are limitless.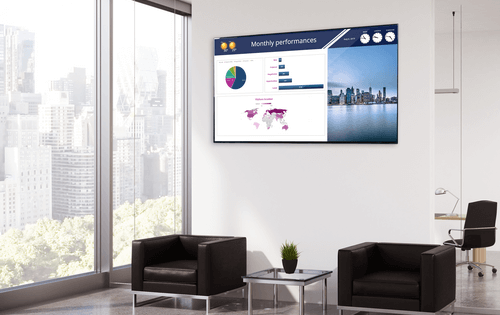 Head office and common office areas
Empower employees with data. Your team spends less time to find answers and to take the right decisions.
Drive data transparency at the workplace by making your company's key targets visible to everyone.
Motivate and improve team performance. When seeing the results of their efforts, teams innately start to improve their work.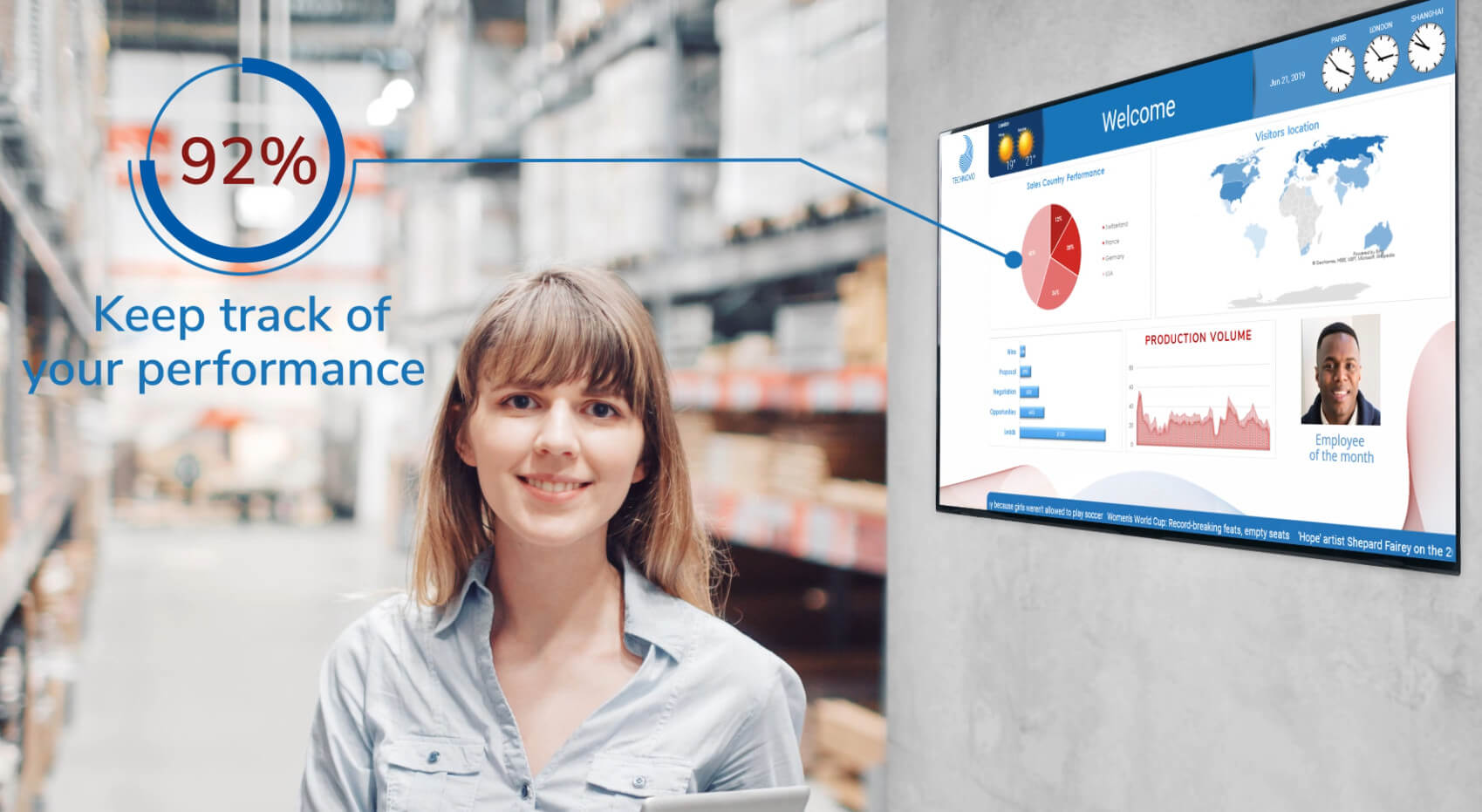 Remote production sites and logistics
Transform manufacturing. Encourage people and machines to work together more efficiently.
Replace complexity with insight. Provide easy to read visibility on production metrics, inventory status and machine performance in real time.
Bring useful visual information closer to employees who don't have immediate access to other communication means and tools like email and a laptop.
With SpinetiX you don't need yet another system.
At SpinetiX, we believe in integrating into what you already have. Elementi and its widgets are purposely built for centralized distribution to any number, combination, or size of displays. Arranging content is done via simple drag-and-drop and avoids having to depend on agencies for content design. Content on your screens automatically updates while you continue using your Excel spreadsheets as usual.

Get started with the charts widgets and Elementi today.
It's easy: download Elementi software, launch it and create away! Just follow the 4 quick steps below:
The trademarks and logos of other companies used here are to communicate that SpinetiX products and solutions integrate with these companies' specified products and solutions. For the exact details of these integrations please contact SpinetiX. Unless expressly specified for a particular company, SpinetiX disclaims any other association, affiliation, sponsorship, endorsement or approval by these companies of SpinetiX or SpinetiX's products or solutions.
Discover more digital signage applications.
Contact us.
Now let's talk about your project. Contact us to talk about your specific needs and to learn more how SpinetiX can address them: