Digital Signage & Social Media
Turn your followers into customers.
Being able to sync your digital signage network with your main social media profiles can bring strong impact to your local customers, employees and guests. It can also ensure a much-needed efficiency boost to your operations. The SpinetiX digital signage solution enables easy access various social media platforms so that your campaigns are automatically synchronized to your display network.
It's time to increase and inspire your fans and followers!
Turn them into fans and followers.
Get personal with your customers and inspire them to tweet and share about you even more by featuring their posts and tweets on your digital signage screen.
Enjoy a rich set of dedicated widgets all included in our Elementi software for free.
Social media widgets in Elementi.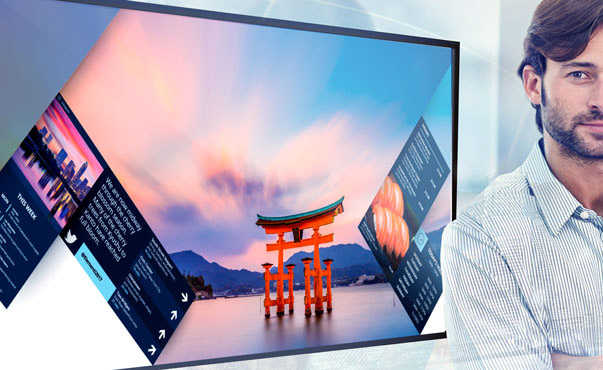 Our widgets automatically connect to your social media accounts and display your latest posts in real time. Several filtering criteria let you define how to automatically select the posts you wish to highlight and those you prefer to hide. We support Twitter, Flickr, Yammer, and more. All our widgets can be used as is and are ready to be customized to match your communication needs.
Choose security and reliability.
SpinetiX implements and keeps up to date with all recommended security requirements to safely connect to your social media accounts. Our range of award-winning HMP hyper media players work in tandem with Elementi and are simple to install as well as easy to deploy. We constantly work on our software and firmware products to provide the best security and reliability standards.
In parallel, SpinetiX digital signage solution features notification mechanisms available as a cloud service, that informs you when social media providers change their access policy so that you can promptly react and keep your digital signage synchronized.
Discover more digital signage applications.
Contact us
Now let's talk about your project. Contact us to talk about your specific needs and to learn more how SpinetiX can address them: