Buy.
Get expert advice for your business.
Whether you are part of a global enterprise or have a small company, we can connect you with the right reseller to help you integrate the SpinetiX Digital Signage technology into your company. Buying from SpinetiX is easy. In collaboration with our partners, we deliver leading solutions to customers all over the world. Our indirect sales model means we work with specialist competencies at every stage, from distribution to installation, giving our end customers the very best of Digital Signage.
How to buy?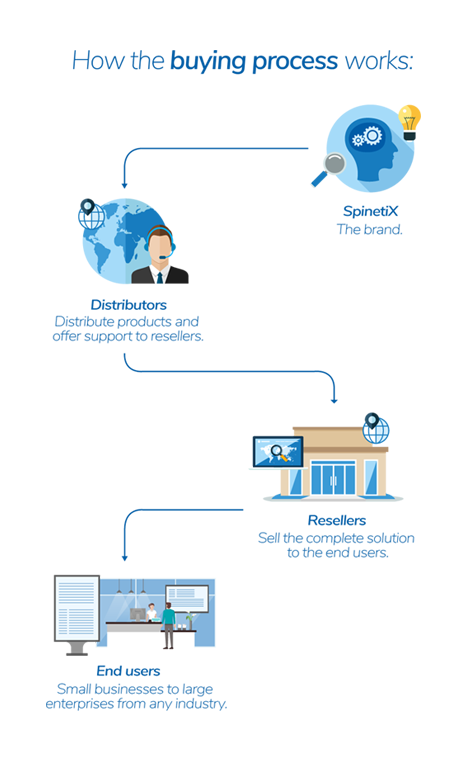 An ecosystem of channel partners at your service.
SpinetiX distributes its solutions worldwide through a two-tier indirect sales model. Our distributors do not simply supply our solutions where a reseller needs it. They also educate resellers, keep them up-to-date with the latest product news and work closely with them to bring complete solutions together for their end customers.
The SpinetiX resellers guarantee the best quality and support delivered to the end customer. Thanks to our Channel Partner Program and our Digital Signage Academy our knowledgeable resellers can meet the most challenging end customer requirements.
At SpinetiX we make the deployment process seamless between our distributors, our resellers and the end customers.
Find a SpinetiX partner near you.
Use our partner locator below to find the right SpinetiX partner for you:
Find a SpinetiX reseller if you are an end customer
Find a SpinetiX distributor if you are a reseller
I am a
and I'm looking for a SpinetiX
partner
in
Become a partner.
Whether you are looking to start your own Digital Signage business, grow an existing one, or take your company in a new direction with Digital Signage, SpinetiX has more than just innovative solutions. We have an ecosystem of knowledgeable partners who will work with you every step of the way.