AXIS technology partnership with SpinetiX.
Axis Communications and SpinetiX integrate live-video with digital signage.
Axis Communications and SpinetiX integrate live-video with digital signage to create a smart-shop: dynamic, real-time and connected. Axis Communications and SpinetiX have teamed up to create a powerful and smart streaming solution to innovate the Public View Monitor or Confrontation Screen at shop entrance. By combining the Axis network cameras with SpinetiX HMP players, the screen at the shop entrance turns into an interactive welcome-screen. The retailer can include security to alert entering customers that video surveillance is in operation as part of the aesthetically pleasing in-store communications.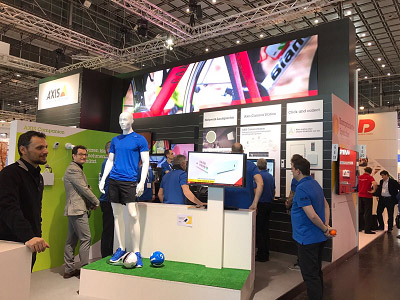 Dream team digital signage and IP-video.
The HMP player gets the live stream directly from the door- or entrance-facing network-camera and displays it on the Welcome-screen. No PC or additional cabling is necessary. There is almost no limitation about what kind of information can be displayed: live videos, audio, texts, images, graphs etc. or in which position or size. That is for example the perfect place to alert customers to local sales promotions, staff photos, welcome messages, local weather forecasts or emergency and safety alerts.
The smart integration of AXIS live video with SpinetiX Digital Signage solutions helps retailers to provide a unique shopping experience by reacting to the momentary situation in the store – automatically and in real-time.
Intelligent solution automatically reacts to events in real-time.
The solution becomes even smarter when used with Axis' event triggering. The HMP player handles incoming event information directly from the network camera to automatically change the screen content based on a pre-defined shop scenario. For example, every 10th visitor can be rewarded with a coupon triggered by the connected people counter.
Additional information.
You are interested by the AXIS Technology Partnership and you want to know more. Discover below some additional documentation and do not hesitate to contact us if you need further details.