Support
A global support system close to you.
Together with our local channel partners, SpinetiX adopts a multi-level support system to provide you with efficient support close to you and in your language. We provide free online live-chat service and free online resources that you can access at any time. In addition, our local partners are available to help you in a geographical area close to where you are. You can also contact the SpinetiX support team directly.
Online support.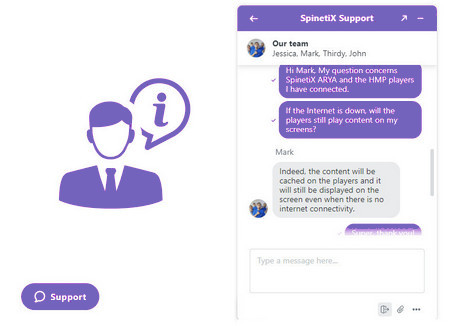 Live chat
Our online support includes a live chat accessible to anyone where a team of SpinetiX experts is available to answer your questions 16 hours a day. The live chat is integrated on this page as well as within SpinetiX ARYA cloud platform and on our Support Wiki. Just click on the purple chat bubble at the bottom left of your screen.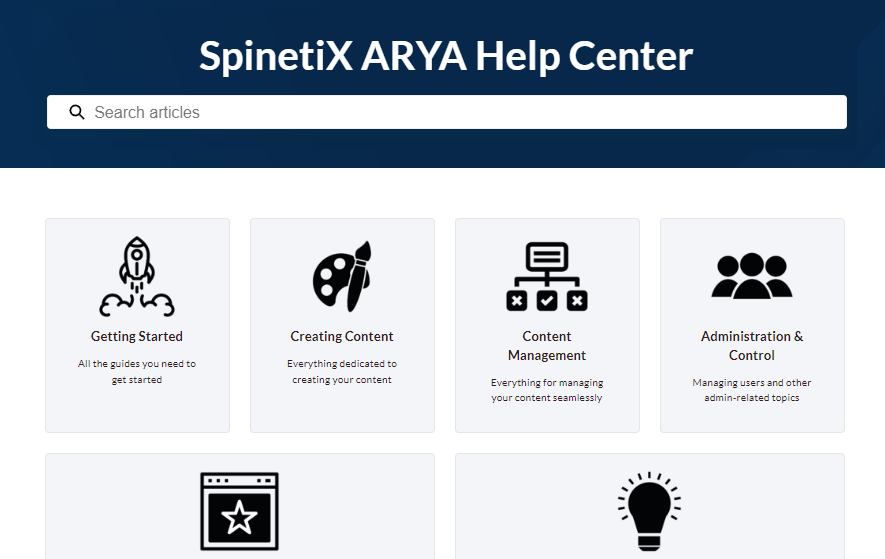 SpinetiX ARYA Help Center
The SpinetiX ARYA Help center is a growing resource of SpinetiX ARYA-related documentation, helpful step-by-step tutorials and insightful best-practices guides designed to make the best out of your SpinetiX ARYA experience.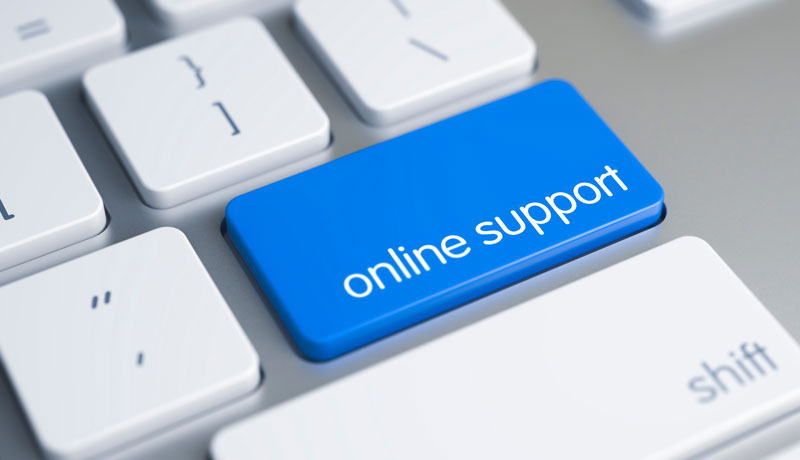 Support Wiki
The SpinetiX Support Wiki is a very exhaustive resource- and knowledge base, freely and instantly available to you. Access in-depth information and examples that will help you take full advantage of the solutions we offer.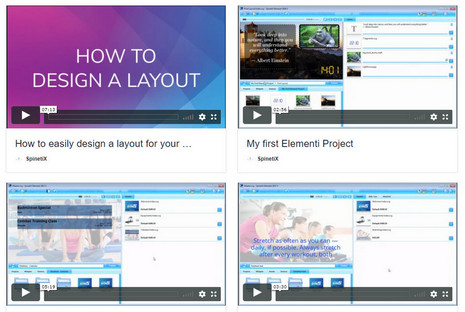 Tutorial Videos
The best way to get started with SpinetiX ARYA cloud solution or Elementi software is by watching a few quick video tutorials. Check out the SpinetiX YouTube channel for all available tutorials.
Support documentation.
Documentation on our current products can be found below. For documentation on our legacy products, visit our Support Wiki.
Multi-level support at your service.
Level 1 Support:
Our channel partners are skilled, trained on our products and available close to you to answer your support inquiry in your local language. The proximity of our partners as well as their expertise and professionalism guarantee you the best-in-class service and make our difference.
Level 2 Support:
In most countries, our local channel partners are supported by distributors dedicated to our solutions. Our distributors bring the second level of support locally to assist you with your needs.
Level 3 Support:
Contact the SpinetiX support team. If you need further assistance, our team of specialists remains available.
Do not hesitate to support [at] spinetix.com (contact us).