Digital Signage for the Hybrid Workspace
3 ways to navigate the split between home and the workplace.
SpinetiX In The News
SpinetiX received special coverage in the March/April edition of UK's AV Magazine, reinforcing the idea that proven existing technologies like digital signage make workspaces safer and more connected. See how signage and SpinetiX help you navigate the split between home and the workplace.
As the world emerges from the coronavirus pandemic, companies are forced to experiment with new ways of working. But the global pandemic is only the catalyzer of a paradigm shift that has its origins long before COVID-19 hit. What can you do to successfully navigate this new reality of work?
The hybrid work model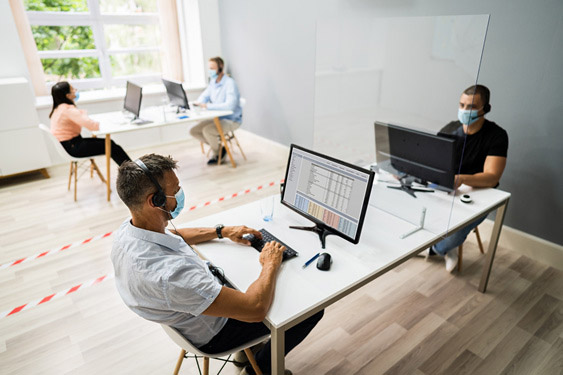 The business-as-usual outlook is bound to be affected by the notion of the hybrid workplace where remote and office work coexist.
Many have come to associate remote work with a feeling of isolation and a loss of meaning. This can ultimately lead to a drop in commitment.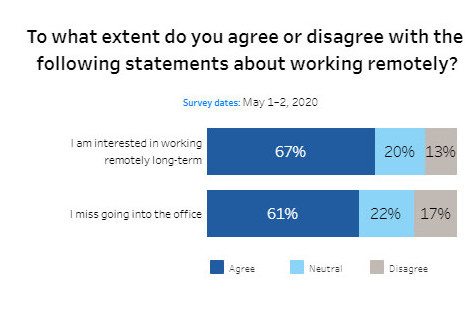 61% of employees surveyed during the course of the pandemic by Salesforce say they miss going to the office as opposed to working entirely remotely. At the same time 67% of the same sample say they are interested in working remotely long-term.
So why not consider the hybrid work solution as a viable long-term key to productivity in this new post-COVID world?
Not everyone can work from home.
How to maintain productivity for jobs that can't be done remotely?
This legitimate question has arisen now more than ever, not least from companies with warehouses and factories in the logistics, transportation, farming, and physical-goods production business whose workforce cannot work remotely.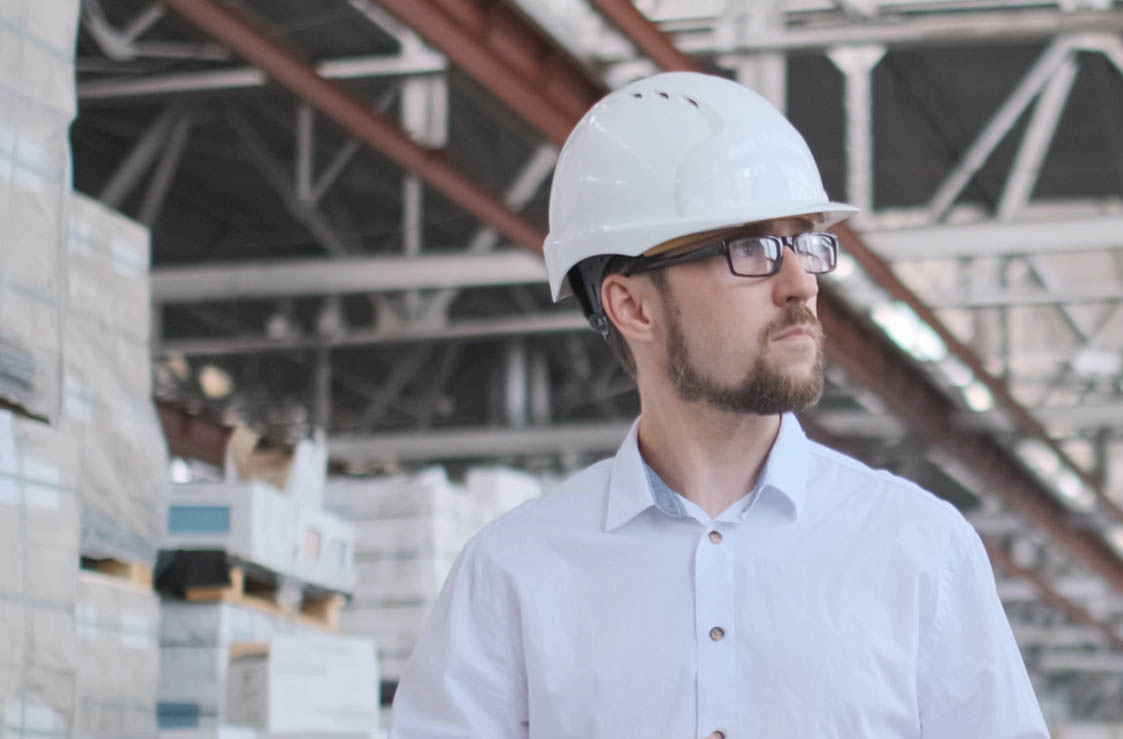 The vast majority of employees who cannot work from home such as production, logistics, and retail staff lack the proper communications technology including a company-provided laptop or a phone. This sheds light on an underlying issue with on-site staff being especially vulnerable to feeling disconnected from the head office. Combined with the current insurmountable health-safety context, it is more important than ever to secure consistent communication with on-site staff.
Two existing technologies to navigate the new
post-pandemic reality of work
The good news is that existing proven technologies are accessible to any business of any size which optimize your organization's working spaces for safety and productivity.
Two such technologies come to light: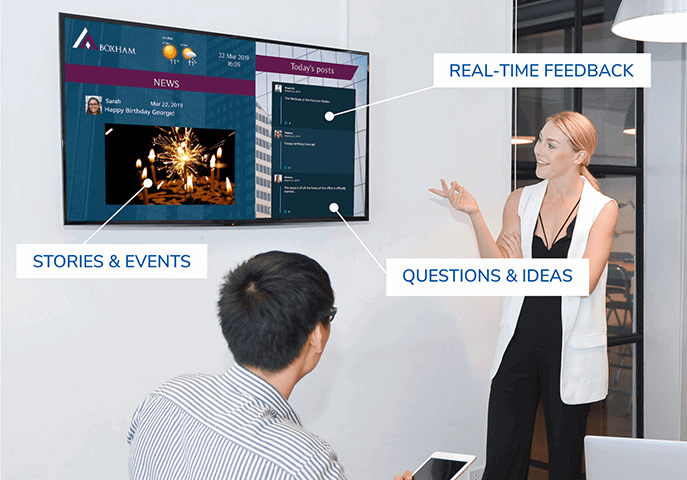 Digital Signage is a technology for displaying content on screen that can help make the workplace safer, strengthen bonds with employees and make them more involved in the organization.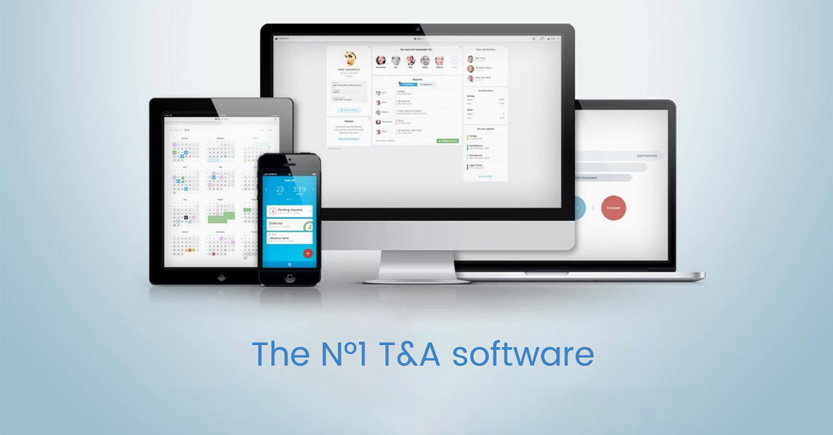 In addition, using a dedicated work planning platform comes in handy for keeping track of remote and on-site employees while ensuring their safety. Good management of working hours, employee rotation and presence contribute to greater flexibility with organizing work. On the one hand, managers obtain relevant coaching data adapted to a hybrid working environment; on the other – employees feel comfortable and in control with this new form of work.
These two complementary approaches – combining a software solution and employing display communication technology, allow the company to resume, maintain and increase its activities by focusing on the involvement of everyone and on a trust-conducing platform designed for flexibility.
3 ways to navigate the split
between home and the workplace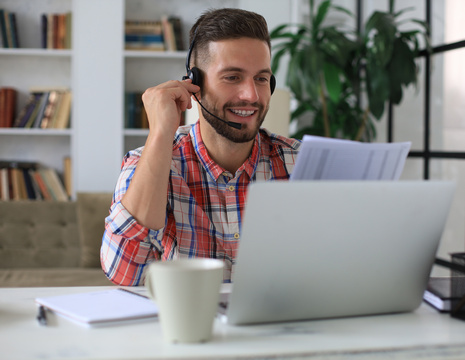 1. Organize work from home:
This involves advice on the layout of the home workspace but also its link to the head office and especially remote management. The home office offers employees increased security from a health point of view; however, supervising employees is complexified. The challenge is, therefore, to ensure the continuity of projects and the commitment of employees while at the same time taking into account the physical distance that separates workers from management and other colleagues.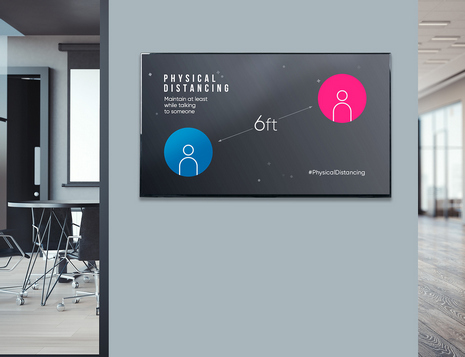 2. Make the office and other on-site working areas feel safe:
The company must take actions that reassure employees' sense of safety in the office, at production sites, and other remote on-site workspaces. For example, ensuring contactless access to areas throughout the workplace, displaying safety instructions and company information on screens, providing adequate and dynamic real-time wayfinding to manage the flow of people and more.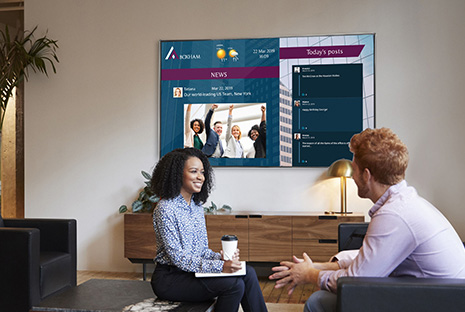 3. Offer prime on-site experiences:
Finally, with remote working becoming the norm, working from the office must bring a high-quality experience to employees in order to encourage collaboration and strengthen their bond with the organization. The most important way to foster this positive spirit is to communicate internally on everything related to the corporate culture, whether it be values, successes, or even strategic information that management wishes to share.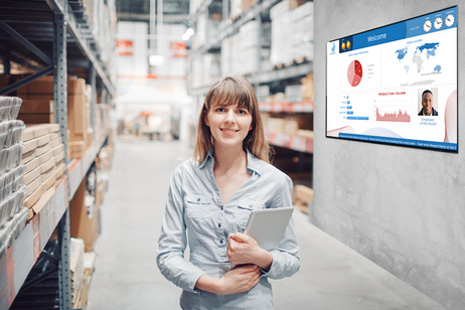 Visualizing data in the form of dashboards on digital displays is a great way to solve that. It enables you to engage your employees with reliable and meaningful information coming right from the source – your everyday business tools.
In the wake of the coronavirus pandemic many businesses are re-discovering digital signage as a vital new way to deliver an automated, safe form of communication that reassures employees and customers about the safety of doing business at their location.
Protime and SpinetiX Share Our Joint Expertise
Get our free white paper.
When tomorrow strikes a day early and change is no longer optional, Protime, the expert in time- and staff management and SpinetiX, the leader in digital signage solutions will help you navigate the challenges that accompany the notion of the new hybrid workspace by integrating their technologies and contributing to the transformation of the working environment of your company.
Fill the form below to get our free white paper.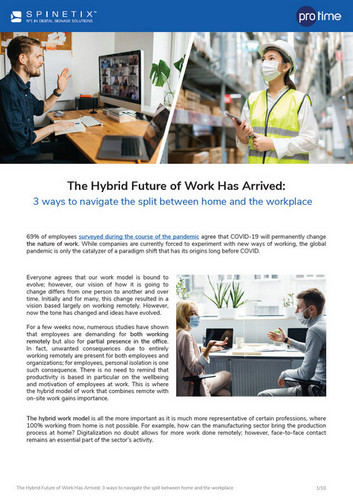 Discover more digital signage applications.