Crestron technology partnership with SpinetiX.
Room scheduling by Crestron Fusion with digital signage by SpinetiX.
To bring you the cutting-edge signage experience of the future, we partnered with Crestron and integrated smart room scheduling with state of the art digital signage. SpinetiX is Crestron's Integrated Partner, and SpinetiX products are certified to operate seamlessly with Crestron's smart-building technology, namely Crestron Fusion.
Room scheduling with digital signage.
The combination of Crestron and SpinetiX technologies brings a true synergy between digital signage and smart-building. It empowers room scheduling systems and offers additional customer benefits including:
Richness of interactive content displayed on the screens (videos, images, messages)
An easy, consistent customization of the screens with customer branding
Digital signage as default content when room scheduling is not used.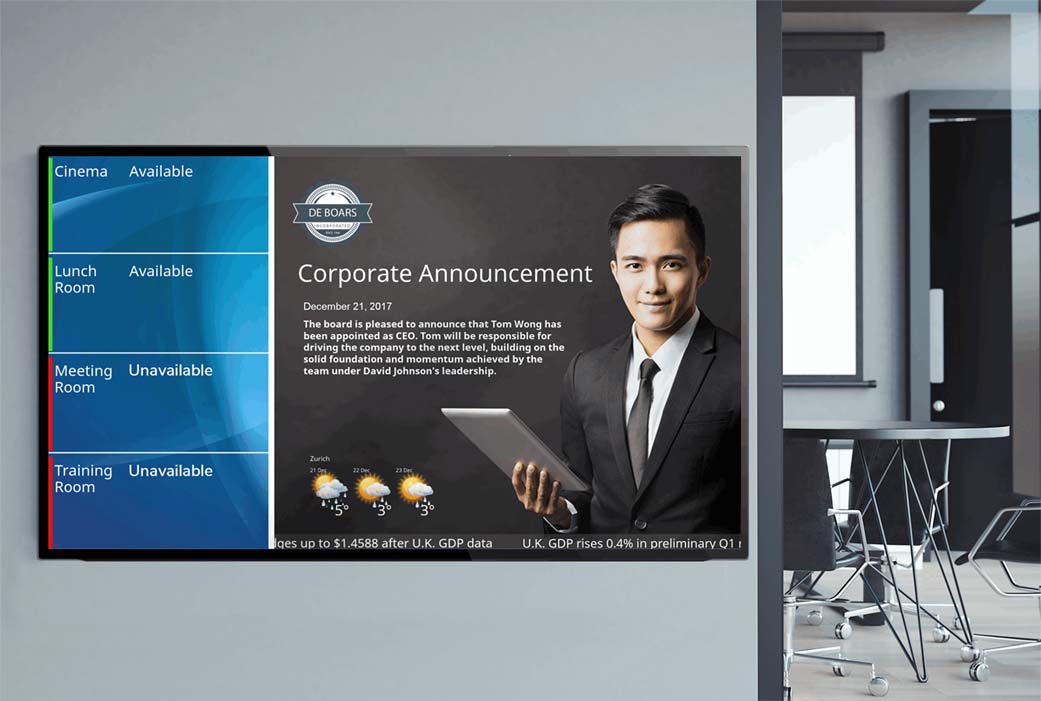 SpinetiX digital signage and Crestron Fusion software.
Crestron Fusion monitoring and scheduling software adds a layer of intelligence to turn an organization into a high-performance enterprise. SpinetiX showcases the advantages of this seamless technology integration in the example of Crestron network room scheduling enhanced with SpinetiX digital signage.
Crestron drives innovation by partnering with industry-leading, cutting-edge manufacturers across the globe to bring their customers seamless technology integration for an unparalleled user experience.

How to integrate SpinetiX digital signage technology?
You are a Crestron Fusion reseller and see the real benefits of integrating digital signage with your installations? Please take a few minutes to register with us and we'll provide you with all the needed information about our integration solution. By filling out the registration form, you will also help us reach out to you and provide you with a dedicated training program to help you bring your smart-building management solutions to the next level. 
Additional information.
You are interested by the Crestron Technology Partnership and you want to know more? Register today.