SpinetiX ARYA
Digital signage cloud built for enterprise business.
Incredible Wow
Incredibly Simple.
It takes five seconds to grab someone's attention. It only works with great content. With SpinetiX ARYA™, your branded visual messages will stand out on any display
in minutes.
All the Features You Need
Scalable Digital Signage Made Easy
SpinetiX ARYA evolves with your needs. Its true SaaS (Software as a Service) nature means new exciting features are always added and a suite of advanced capabilities can be unlocked depending on the way your requirements grow.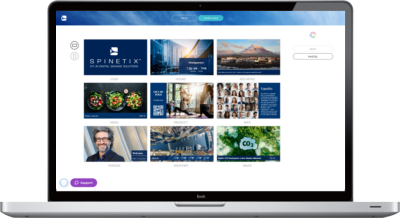 What do you need to get started?
All you need to get started is a SpinetiX ARYA cloud account, a compatible digital signage player,
and any digital display.
Start Your Journey With SpinetiX ARYA
the Way You Are.
Whether you are looking to start on your own, or to set up the solid technical foundations of your enterprise signage infrastructure together with a local SpinetiX partner, SpinetiX ARYA comes with the right plan to support your evolving needs.
Choose your option below:
Best Cloud-Based Signage Solution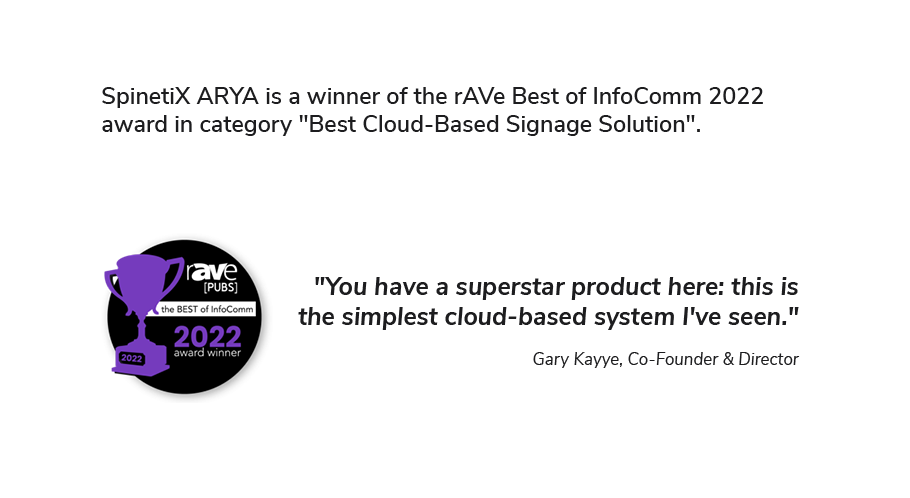 Cutting-edge Technology of the Future. Today.
With a shared commitment to digital signage and vision for the future, we joined forces with Intel® as part of the Intel Partner Alliance and continue delivering the cutting-edge technology of the future today.

See SpinetiX ARYA in Action
Grab your seat on one of our upcoming sessions where you'll see a quick demo of SpinetiX ARYA, along with how to get started, and meet the team behind the scenes.