Our Digital Signage Players
Purpose-Built is Powerful.
Our players are made for digital signage - robust and reliable - they deliver content flawlessly 24/7 supporting any signage application.
iBX410
Excellence. Every Day.

iBX410 is the versatile digital signage player powered by the latest technology, made to effortlessly meet all your signage needs.
Day after day.
HMP400 & HMP400W
The Mission-Critical Player.

Our HMP400 and HMP400W redefine the meaning of mission-critical continuous operation and are designed for the most demanding installations.
Engineered for Excellence
What sets a SpinetiX player apart?
Partner Players
Expanding Possibilities Together.
Together with third-party player manufacturers, we make decades of SpinetiX know-how accessible to all, leveraging Intel-based architectures like Intel® SDM and Intel® NUC to offer complete, ready-to-use digital signage solutions.

Intel® SDM by
Sharp/NEC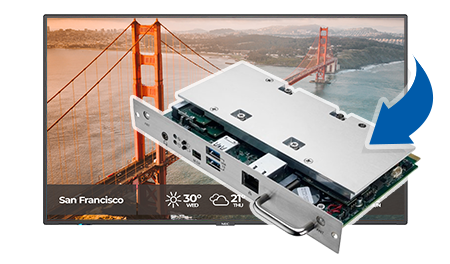 Ready-to-use digital signage solution integrated with a Sharp/NEC display.