Education digital signage success stories.
Create the best learning conditions.
For kindergartens, elementary schools, high schools, colleges, university campuses, corporate training centers and other educational facilities.
Educational institutions worldwide, from kindergartens to university campuses, trust SpinetiX daily to effectively communicate with students, professors, and parents. They choose SpinetiX to save time and resources by making easy-to-display class schedules, timely inform of any last-minute change or update, share public transportation timetables, deliver security messages, entertain, advertise cafeteria menus, and engage participation in locally organized events. Everyone sees benefits!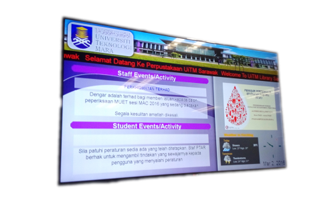 Communicate efficiently following your school agenda.
"Now that my university has equipped with screens and kiosks, I am always up-to-date with what is going on in the campus and I don't miss anymore my favorite initiatives. At the cafeteria, I can enjoy 100% my breaks while watching the latest news or yesterday's match as I know the screen will inform me at the same time if my classes have been rescheduled and when my next bus leaves the campus."
Junior student in Computer Technologies, Malaysia
Content is easy to create and update.
"Administrative tasks are a burden to me. I used to waste so much time preparing, printing and pinning the canteen menu or information to parents and I am pretty sure no one actually read them! Now with Elementi, I can share any information in one click directly from my computer. I can easily update the content by myself and with dynamic presentations I can show so much more than before like after-school activities offered to children. I have just added a video I made with my smartphone during our school trip last week. My life as school principal just gets easier!"
Elementary school principal, Russia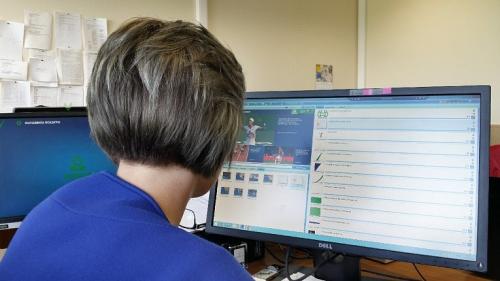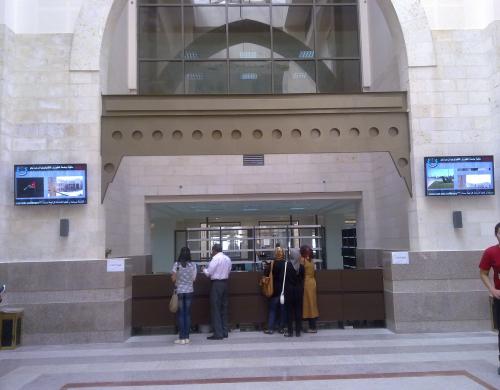 Budget is under control.
"Every penny of my annual budget is preassigned and I don't have much room for recurring fees. With SpinetiX, my budget is controlled: we bought the solution once and for all and this is the lowest operation cost I ever experienced with a piece of IT hardware. We have had absolutely no hidden or recurrent expenses and no maintenance costs thanks to the reliability of the solution."
University CFO, Jordan
Our references at a glance.
Thanks to our ecosystem of partners and distributors, we empower hundreds of educational facilities around the globe from local schools to university campuses.
EPFL – Switzerland
The Ecole Polytechnique in Lausanne uses SpinetiX digital signage solution across campus to keep students informed in real-time of different classes and activities.
Holy Trinity Catholic Middle School – USA
Through SpinetiX digital signage solutions, administrators of Holy Trinity Catholic Middle School have gained a fresh and impactful tool for sharing information. Students and faculty can now view up-to-the-minute school news, weather and messages with a quick glance at sleek displays throughout various common areas of the school.
IMD business school- Switzerland
IMD, one of the top business schools in the world, employs SpinetiX solutions. "With SpinetiX, we sleep soundly. Our daily job is to manage lessons, logistics and conference in the building. We are glad to have a product that helps us focus on our core business."
IT/AV Support Manager at IMD
From the Alice Smith International School in Malaysia to La Sorbonne University in Paris, many educational institutions trust SpinetiX solutions such as:
The University of Ottawa - Canada
Swiss Federale Institute of Technology - Switzerland
Jordania Tech University - Jordan
Northeastern University - USA
Singapore Institute of Technology - Singapore
Monash University - Malaysia
IMD Business School - Switzerland
La Sorbonne University - France
University of South California - USA
Toronto University - Canada
If, like our 10 top clients in education, you have specific needs and want to know how SpinetiX can address them, contact us!