Partnering with Simply NUC for
The Ready-to-Use Signage Appliance
Ready-To-Use
Digital Signage Appliance
Simply NUC devices running SpinetiX ARYA™ CMS, out of the box and running on DSOS™ by SpinetiX – an OS designed for Intel® hardware architectures, offer end-to-end ready-to-use digital signage appliances making digital signage easy and more secure.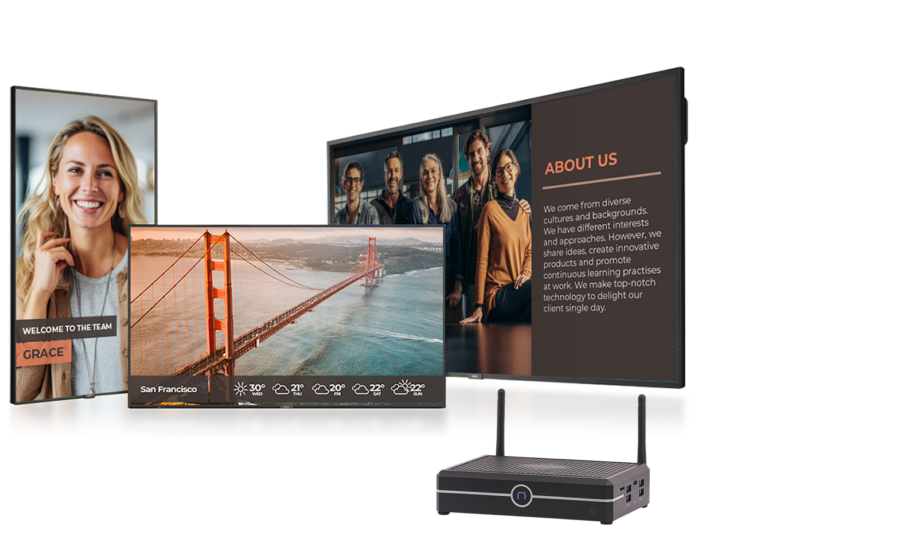 How
It Works
Create your FREE SpinetiX ARYA account. Connect your player to the screen. Upload your media to the cloud and start creating stunning visual content for your display.

The Benefits of SpinetiX ARYA
Free Cloud-Based CMS:
 
Award-winning digital signage CMS built for enterprises:
 
Create stunning content with customizable templates


Publish from anywhere on any number of screens for FREE

About
Simply NUC

As a Platinum Intel® Technology Provider, Simply NUC is recognized by Intel as a trusted partner completely focused on the supply, configuration, and support of mini computer systems and solutions for customers located in North America and Europe.
Made by the digital signage experts.
Together with third-party player manufacturers, we make decades of SpinetiX know-how accessible to all, leveraging Intel-based architectures like Intel® NUC to offer complete, ready-to-use digital signage solutions.