Financial services digital signage success stories.
Capture tomorrow's opportunities.
For trading floors, stock exchanges, banking and insurance desks, headquarters, mortgage offices, accountants, cash desks, brokers and other financial services institutions.
You provide daily services to clients who expect top-notch reliability, security and reactivity. SpinetiX can help you transpire an image of quality to your agencies and clients' desks but also to your employees. Digital signage helps you to achieve continuity between your online and desk services. You can also display real-time feeds such as stock listings or exchange rates along with any other information you want to share with your clients.
Better respond to your clients' expectations.
"With SpinetiX digital signage solution, we can launch new products with a better time to market and more efficient cross-channel campaigns. Now, we can broadcast a new campaign in all our agencies in different languages according to their location. Previously, it required two weeks with previous printed materials."
Bank head of marketing, Luxemburg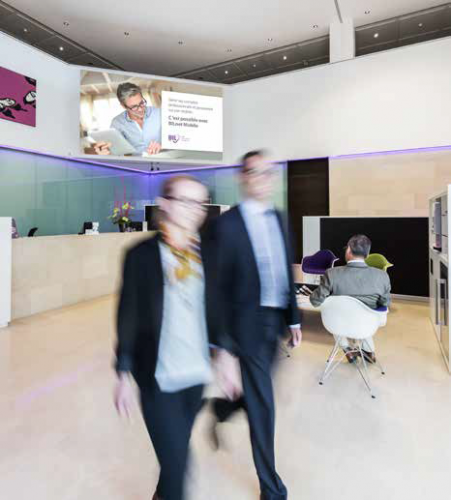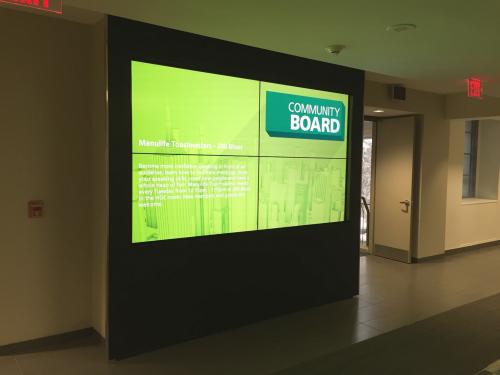 Take all your employees on board.
"The screens installed across the building display our WebTV videos. Thanks to this, I am much more aware of the communication we issue to our clients and I relate more to the values of the company. I think our videos are relevant and inspiring and I am proud to be part of it. Screens also display practical information such as weather, transportation schedules and real-time traffic in the area, which is so convenient."
Insurance company employee, Canada
Impress visitors.
"We have used our SpinetiX video wall for years now. The regular screen shows major listed companies and index ratings, the current time at international stock exchanges around the globe and our corporate video. Thanks to the multi-layer content, I can easily customize the screen when we house events or welcome special guests. Guests are always impressed to see their logo on this gigantic screen; they feel special. Content is so easy to change in Elementi that it never takes more than a few minutes and it always looks sharp."
Communication project manager at the Tel Aviv Stock Exchange in Israel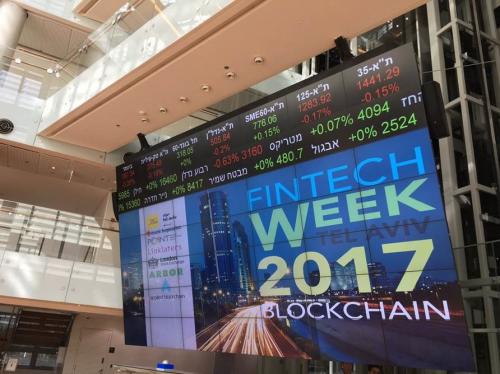 Our references at a glance.
Thanks to our ecosystem of partners and distributors, we empower hundreds of financial-service companies around the globe from cash desks to trading floors.
Manulife - Canada
Manulife, a leading financial services group in Canada, broadcasts corporate content in their headquarters fed with their commercial videos and communication. Thanks to multi-layer content creation, the message is quick and easy to adapt and looks appealing and professional.
Tel Aviv stock exchange - Israel
A great video wall welcomes visitors at the Tel Aviv stock exchange displaying all iconic information regarding global markets in real time. Content is customized for special events and guests.
Banque Internationale à Luxembourg - Luxemburg
This international bank equipped all its agencies to better engage with its clients and prospects with appealing and modern communication.
From Banco del Stato in Ticino, Switzerland to Allianz Global Investors, many financial-service companies trust our solutions:
International Finance Centre – China
Allianz Global Investors - Germany
Banco del Stato Ticino - Switzerland
Banque Internationale à Luxembourg
Clientis Zurich - Switzerland
Tel-Aviv Stock Exchange - Israel
If, like our 10 top clients in financial services, you have specific needs and want to know how SpinetiX can address them, contact us!