Social Walls with Facebook
Share your story and engage with your fans.
Social media makes it easier than ever to build your online presence. Your company may have set up a Facebook fan page even before building its website. Yet the majority of business is still done face-to-face at the point of purchase – your shop, your coffeehouse, your event. This is why it is important to leverage your social media efforts both online and in the real world.
Our software Elementi and our Facebook widgets help you bridge the gap.
Here's how. 
Bridging the gap between the digital and the real world.
Facebook dominates the online world. 79% of people who use the internet are logged into Facebook. But how do you leverage your online social media efforts in the real world, where business happens?
Digital signage is a new data-driven communication channel that bridges the gap between the physical and the digital. It is omnipresent and builds on top of your social media endeavors by allowing you to display dynamic content on a bright screen that is engaging to the passerby.  Learn more...
Digital signage and social media.
A match like no other.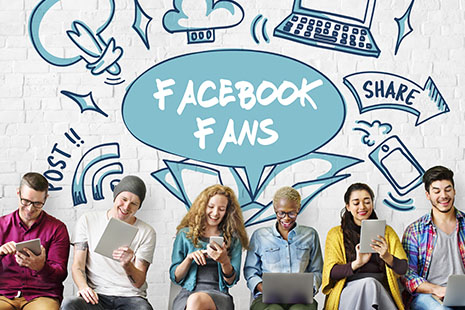 Digital signage makes social media an integral part of the on-site experience you bring to your customers. Combining digital signage with social media helps you:
Build brand awareness online and at the same time influence customer behavior at point-of-purchase.
Generate high-impact content that auto updates without the need for a dedicated content-creation team.
Easily maintain consistent cross-channel customer experience using your everyday tools.  Learn more...
Harness the power of social.
Elementi Facebook widgets.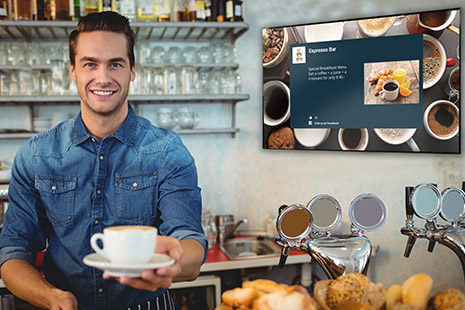 We know that Facebook is a powerful and easy-to-use marketing tool for business. With that in mind, we developed a set of professional-grade Facebook widgets cleverly customized to benefit your bottom line at point-of-purchase.
The widgets – all included in our software Elementi right from the start – securely connect to Facebook and are purposely built for digital signage, bringing out the best of your social media content to any number and combination of screens. The result: connecting social media content that auto-updates and helps engage with your Facebook fans.   Learn more...
Limitless applications.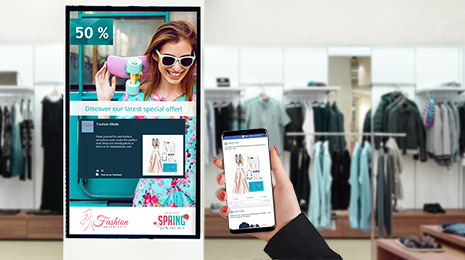 Promote your products on-site
by using your Facebook page.
As a retailer, you already employ Facebook as a tool to promote items to your Facebook fans. Once they are in your store, use the opportunity to close the deal by reminding them about the promotion and showing the post from your page on an in-store screen.  Benefits include...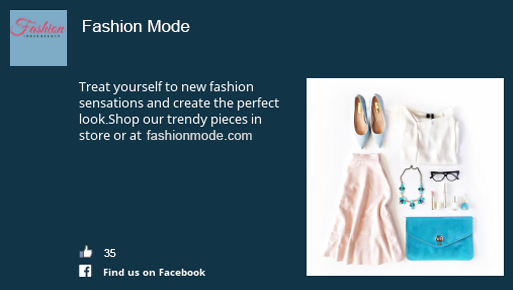 Branding your business as modern, fun and connected.
Creating trust by engaging in consistent cross-channel messaging.
Saving on content creation resources.
Nurturing community spirit while promoting your products and services.
Connecting with your fans and turning them into paying customers.  Learn more...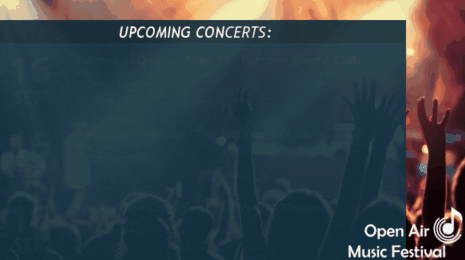 Inform and guide visitors
with Facebook Events.
Use Facebook Events to empower people in the real world at your event or festival. You benefit by:
Promoting your event online while at the same time showing your on-site visitors what matters to them.
Displaying engaging and useful real-world guidance by employing Facebook's easy event creation tool.
Streamlining event management by using your Facebook account as a single publishing location.  Learn more...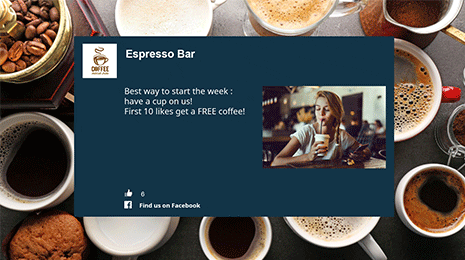 Showcase daily specials
by posting on Facebook.
Draw the attention of your customers by showing them what they want on an animated bright screen. Benefits include:
Professional-looking and up-to-date content sourced directly from your Facebook account.
Reduced perceived waiting time by engaging with customers while queuing.  Learn more...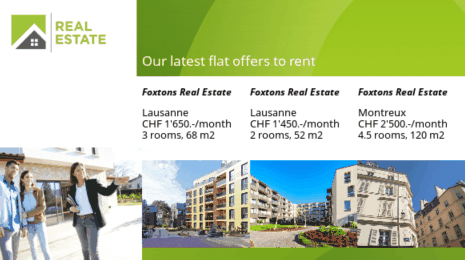 Source engaging media content
directly from Facebook.
Use your Facebook page as a media source for your real-estate window displays to inform your customers in an engaging way. Benefits include:
Automatically turn your Facebook posts to engaging and informative photo slideshows that anyone can maintain. 
Posting your property ads on Facebook makes them easy to find and share.  Learn more...
Get started with the Elementi Facebook widgets today.
Getting started is easy; download Elementi software, launch it and create away! Just follow the 4 quick steps below:
Step 1: Get Elementi.
Click on the Download button below.
Step 2: Open Elementi.
On the main window, click on the "Widgets" tab.
Step 3: Pick a widget.
Scroll down and open the "Facebook" folder.
Step 4: Put it on display.
View additional tips by visiting our Wiki.
The trademarks and logos of other companies used here are to communicate that SpinetiX products and solutions integrate with these companies specified products and solutions. For the exact details of these integrations please contact SpinetiX. Unless expressly specified for a particular company, SpinetiX disclaims any other association, affiliation, sponsorship, endorsement or approval by these companies of SpinetiX or SpinetiX's products or solutions.
Discover more digital signage applications.
Contact us.
Now let's talk about your project. Contact us to talk about your specific needs and to learn more how SpinetiX can address them: